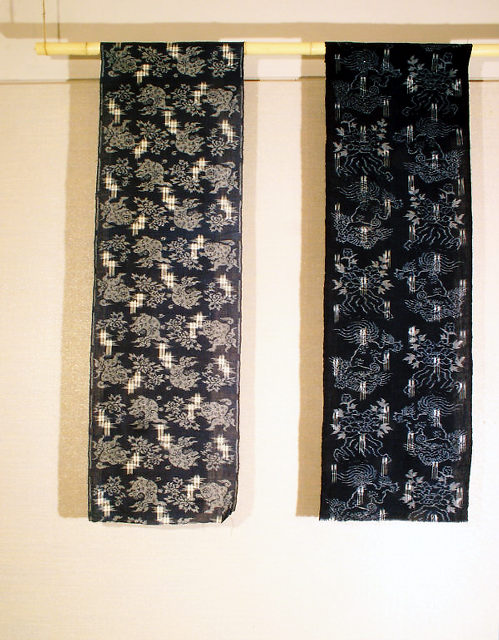 Lions and Peonies

These animals are called kara shishi or "Chinese lions" in Japanese. Lions are not native to Japan. Their images were first introduced on Chinese Buddhist paintings where they accompanied various Buddhist deities. Since lions are not native to China either (Buddhism originated in India) their depictions turned into a dog-like form. Kara shishi are auspicious creatures thought to control rain. The swirls on their coats represent rain storms. On this asa panel the kara shishi have cloud-like forms at the base of their tails that also resemble the "fungus of immortality."
Lions and Peonies

Kara shishi, or "Chinese lions," are often depicted with peonies, as on this and the adjacent panel. Peonies were said to be the rulers of flowers, just as lions were said to be the rulers of beasts. The pairing is also a reference to the Buddhist-themed classical play "The Stone Bridge." This play includes characters dressed as lions that do a celebratory dance holding peonies. The hand-tied vertical lines probably represent pairs of pine needles, symbols of marital fidelity and happiness.
Another likely marital reference on this textile is the masculine/feminine combination of the masculine energy and strength of the lions paired with the peonies, which are often symbols of feminine beauty and sexuality.
Copyright 2006 Jeffrey Krauss and Ann Marie Moeller